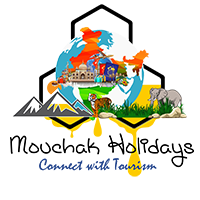 Established in 2018
The idea & inspiration came from home based business unit "Mouchak Family Care" (A production unit of various dry food products in name of 'Mouchak' brand) set up by Manas Kumar Misra.
In Bengali language, The Nest of Honey Bees is called "Mouchak". Honey bees collect the sugary secretions of plants (floral nectar) and convert it into honey and store the produced honey in their home which is bee hive.
Like a Beehive or Mouchak where the bees store their food – Honey, our organization – Mouchak Holidays where sweetness of various tourism products are preserved with very professional approach & with a homely touch.  From this sweet Holiday Basket, you will get an opportunity to make your Holiday very special & memorable for All Seasons, All Reasons.
In our tourism industry, we can be inspired & motivated by the word MOUCHAK which stands for
M= Mastering
O=Our
U=Universe
C= Creating
H= Harmony
A= And
K=Kinship
Mouchak Holidays would like to take the opportunity to introduce to you as wholesale ( B2B) and retail ( B2C) tour service provider with a touch of genuine and sincere support & services.